2015 BOYS LACROSSE SUMMER CAMPS

Upcoming Camps / Events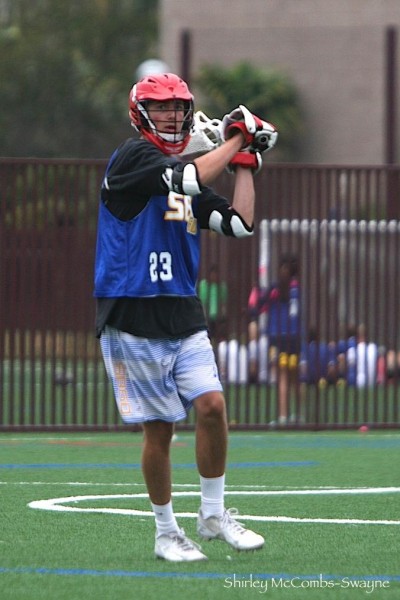 Boy's Lacrosse Camps (More Info)
July 13 - 16, 2015

High School Boys (9am to 8pm)

Entering 9th, 10th, 11th & 12th grades.

Day camper and overnight camper options.
July 24 - 26, 2015

SB60

Elite Camp (9am to 8pm)

For elite players.

Day camper and overnight camper options.
Boy's lacrosse camp questions may be e-mailed to Mike Allan at .

Game Development Camps
Skill Development, Strategies, Scrimmaging
These have separate boys and girls instruction with beginner, intermediate and advanced groups. We like to call these our Skill & Lacrosse IQ development camps. That's a mouthful for a title but it describes them well. Our game development camps are for developing skills and an understanding of strategies with small games and full field scrimmages. Campers are separated by age and experience level so all abilities are accommodated. A typical morning session consists of skill development and small games. An afternoon session consists of strategies applied to more small games and half field situations. The evening sessions are full field scrimmaging with an emphasis on applying what was learned during the day. These camps are limited to the first 120 to apply.



SB60

 Camps
Raise Your Level in a Competitive Setting
Our SB60 Camp is for returning high school varsity players entering their sophomore, junior or senior years. These have separate boys and girls instruction. Players should already have played for at least 5 years and have at least a year of varsity experience or elite travel team experience. Similarly experienced graduated high school players entering college are also accepted.
Each player should be able to go lefty or righty and handle at least 95% of passes thrown to them in drills and game situations. These are advanced player camps for the highly motivated player. Players should come into this camp already fit and ready to play. An emphasis will be placed on team offense, team defense and special situations. These camps are limited to 60 campers.
Boy's lacrosse camp questions may be e-mailed to Mike Allan at .
The Biggest Goalie Camp comes to California!!
June 23 – June 26, 2015
On the Beautiful campus of Whittier College
Whittier, CA
Notes for California Site:
The dorms in California are Air conditioned! Campers do not need to bring a fan. There are keys at CA site. Campers need to bring a key deposit. Keep valuables at home! There is a pool for campers to use at the California site.
Years in the making!!
Finally, the Biggest and Best Goalie Camp in the country comes to the West!!
Don't miss out!This camp limits enrollment to ensure maximum teaching and playing for all Goalies!Once camp is full, no more registrations will be accepted.
Southern California Overnight Camp
Trilogy's Southern California Overnight Camp has been bringing the best coaches and East Coast lacrosse IQ to the West for the past 4 years, and with a new home at CSU Channel Islands, 2015 promises to be better than ever. The week-long camp provides players from CA with access to the games' best instructors, a full week of competition and camraderie building that can only be experienced at sleepaway camp. Join Trilogy Lacrosse this summer to learn from the best.
SPECIAL OFFER – Register by Thursday April 30, 2015
$50 Camp Store Credit (automatically applied to your account)
3 extra raffle tickets to the FAMOUS Trilogy end of Camp raffle
Entry into our ongoing raffles
California State University Channel Islands
Check in: Monday, July 13th from 1-2pm; Check out: Friday, July 17th from Noon-1pm
Based on 2014-2015 School Year
$699 | Extended Day: $649
PEAK LACROSSE CAMP
(for more information see http://www.peak200lacrosse.com/hsclub-recommendation)
June 29th Thru July 1st, 2015
at Springfield College, Springfield, Massachusetts
The Campus:
The Peak 200 Lacrosse Camp is located on the campus of Springfield College in Springfield, MA. Springfield College contains some of the finest athletic facilities in the northeast. The outdoor facilities include four artificial turf fields and two grass fields. All the fields have lights for evening play.
Special Presentations:
After evening games, coaches on staff and other guests will communicate on all aspects of lacrosse including: academic standards, college admissions, NCAA recruiting rules and regulations.
General Information, Eligibility and Fees
The tuition fee of $620 includes room & board, all instruction and a limited excess accident and health insurance policy.
Payment in full or a $300 non-refundable deposit is required with the application.
All balances, medical and waiver forms are due by June 1, 2015.
Our enrollment will be limited.
Registration and additional information, including early arrival and late departure options, will be sent via e-mail upon receipt of your deposit and application.
Routine health care and treatment of minor medical injuries will be handled on-site by 6 FULL-TIME CERTIFIED ATHLETIC TRAINERS. The trainers will refer any emergencies or serious illnesses to the appropriate hospital or physician.
CANCELLATION and REFUND POLICY
Schedule
Monday, June 29, 2015 - Opening Day (subject to change)
10:00 a.m. - 12:00 p.m. - Player Registration
2:00 p.m. or 3:00 p.m. - Evaluation / Practice Sessions
6:00 p.m. or 7:00 p.m. - Team Practices/Games
Tuesday - 3 Games
8:00 a.m., 1:00 & 6:00 p.m. - Game Start Times
Wednesday - 3 Games
8:00 a.m., 12:00 p.m. - Game Start Times
5:00 p.m. - All-Star Game
Checkout after final game
Late Arrival Check-In Procedure:
If you are going to be checking in late (after 4:00 on June 29th), please let us know prior to the beginning of camp.
EQUIPMENT NEEDED
Sticks, helmet, gloves, arm pads, shoulder pads, mouth guard. Goalies need throat and chest protector, cup.
RECOMMENDED CLOTHING
Plenty of athletic socks, shorts, t-shirts, supporter & cup, sneakers, cleats, casual wear, swimsuit, towels, bedding or sleeping bag, pillow, and sunscreen. Fans may be needed, as the dorms are not air conditioned.
Johns Hopkins University
3400 North Charles St.
Baltimore, MD
Petro Lacrosse Camps Overnight Camps
| | |
| --- | --- |
| Session I: June 7-10, 2015 | |
| Session II: July 11-14, 2015 | |
| Session III: July 26-29, 2015 | |
Owned and Directed by Dave Pietramala